This post covers episode 3 of my "how to get more views on YouTube" video series.
As a really quick recap, my day job is teaching people about search engine optimisation (SEO), which is the art of getting websites to the top of Google and other search engines. YouTube is the second biggest search engine after Google so it should come as no surprise that SEO works just as well on YT videos.
I hope that sharing my knowledge of the topic will help small channels, like mine, to compete with some of the more established content creators in both YouTube and Google search results.
If you want to watch past or future episodes, I would recommend that you subscribe to my channel but if that sounds too much like hard work, then bookmarking this YouTube SEO playlist should do the trick 🙂
How to get more views on YouTube videos: YT SEO EP 3 – Titles & Tags
If you can't watch the video for some reason then the main takeaway point is that you should structure your video titles in the same way you would when speaking to someone. So, for example, if you have a video showing people how to get gold & diamond guns in Black Ops 2, call it just that. Don't call it "Black Ops 2: how to get gold & diamond guns".
I did a little experiment on my own video (linked above) and changing the structure resulted in some 20,000 views.
If you did watch the video and you're looking for more information on my tip for appearing in the related video section for bigger YouTubers, then here is what you need to know: copying the tags they use increases the chances that your video will show up next to theirs.
But, how do you see what tags they are using? YouTube used to show what tags people were using just below the video description, however they removed that feature at some point in 2012.
To get round this, navigate to a video that is related to yours. In the main content area of the page, right click and hit "view source".
Hit CTRL-f on your keyboard and a search box should appear. If it doesn't, you'll need to go to edit > find in your browser's menu. Type "keywords" (without quotation marks) into the search box and you should see a minimum of two results….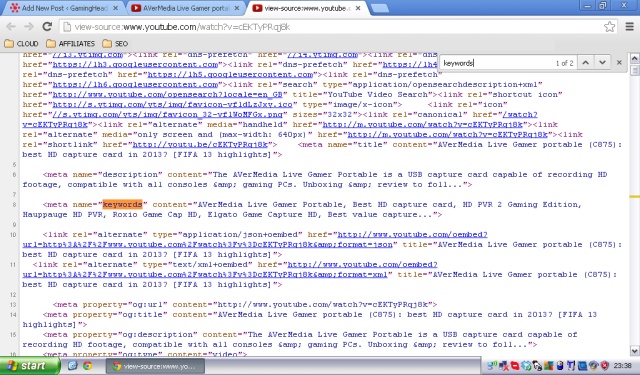 The first of these, meta name="keywords" , will show a handful of tags used on the video. But, if you keep scrolling, you will get to "keywords" which will be followed by a complete list of video tags.
Want to try it for yourself?  Check out my video on the AVerMedia Live Gamer Portable and see if you can find my tags.
[Hint: they are "AVerMedia Live Gamer Portable, Best HD capture card, HD PVR 2 Gaming Edition, Hauppauge HD PVR, Roxio Game Cap HD, Elgato Game Capture HD, Best value capture card, PS3 capture card, XBOX capture card, Wii Capture Card, Wii U Capture Card, Console Capture Card, PC Capture Card, Live Streaming Capture Card, PC less capture card, Record without a PC, AVerMedia Game Capture HD, AVerMedia live gamer series, USB capture card, Portable Capture Card, 2013, C875"]
Now, as per most things in SEO, there is no guarantee that this will work. However, if you have a video on a related topic with a similar title, there's a good chance that it will. Give it a go and let me know how you get on in the comments 🙂