If you're trying to find out the best way to get a copy of Black Ops 2 on (or before) the official release, then head on over to this post. If you're wondering which version to go for – standard, hardened or care package – then read on!
Black Ops 2: Standard Edition
As you would probably expect, the Standard Edition just includes the game disc. If you pre-order a copy, then you'll also receive a code to download the Nuketown 2025 bonus map.
Black Ops 2: Hardened Edition
The Hardened Edition includes a collectable steelbook case, along with a soundtrack CD, penned by Nine Inch Nails legend Trent Reznor. In addition, you get some Limited Edition Challenge coins and access to exclusive in-game content: an exclusive weapon camo and profile background.
XBOX owners receive some goodies for the LIVE Avatar whilst PS3 owners get exclusive themes.
Black Ops 2: The Care Package Edition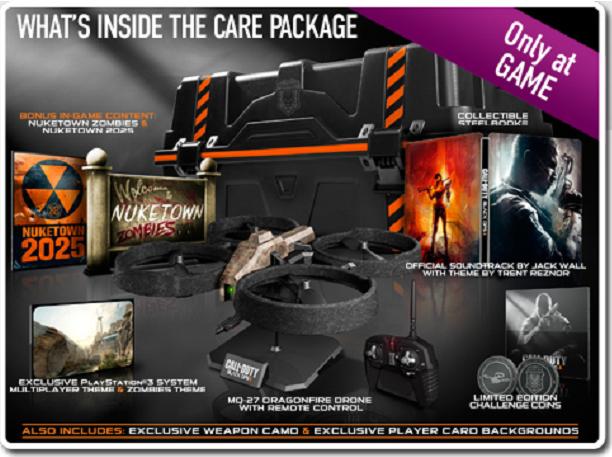 The Care Package includes the game disk and all of the goodies from the Hardened Edition. On top of that, players also receive a remote controlled replica of the MQ-27 Dragonfire Drone, which features as a killstreak in Black Ops 2 online multiplayer.
All of these goodies come inside a sturdy case which resembles the in-game Care Package.
You can pre-order all three versions of Black Ops 2 at Amazon. For details of how and where to get a copy on release day, check out this post.